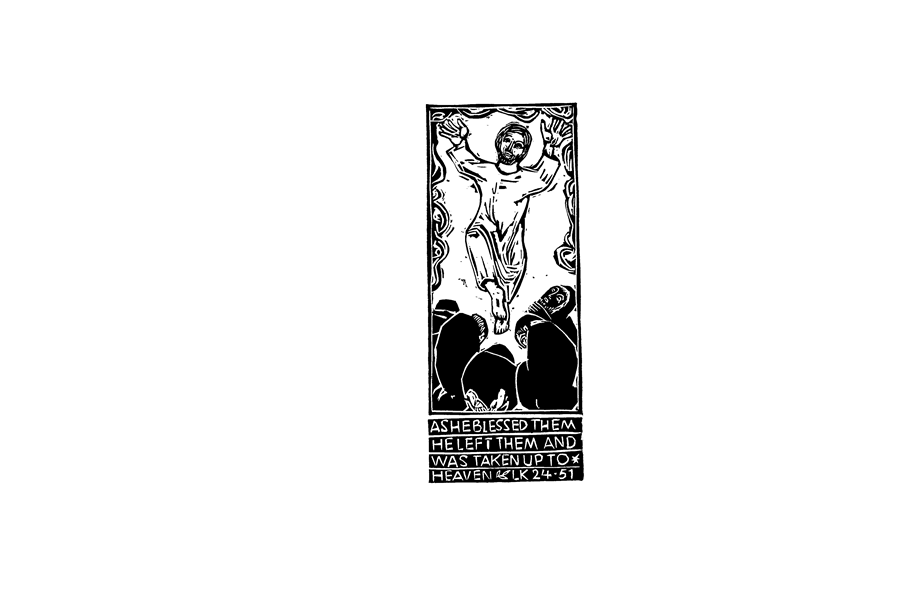 The Gathering of the Community
Hymn: Blue #245 Hail, Thou Once Despised Jesus
Leader: Alleluia! Christ is rien.
All: The Lord is risen indeed. Alleluia!
Leader: May his grace and peace be with you.
All: May he fill our hearts with joy.
Collect of the Day
Almighty God,
you have exalted your only Son Jesus Christ
with great triumph to your kingdom in heaven.
Mercifully give us faith to know
that, as he promised,
he abides with us on earth to the end of time;
who is alive and reigns with you and the Holy Spirit,
one God, now and for ever.
The Proclamation of God's Word
First Reading: Acts 1:1-11
Psalm 34: Praise for Deliverance from Trouble
Second Reading: Ephesians 1:15-23
Hymn: Blue #242 This is the Feast of Victory for Our God
Gospel: LUKE 24:44-53
Sermon (Download Manuscript)
The Apostles' Creed
I believe in God, the Father almighty, creator of heaven and earth. I believe in Jesus Christ, his only Son, our Lord. He was conceived by the power of the Holy Spirit and born of the Virgin Mary. He suffered under Pontius Pilate, was crucified, died, and was buried. He descended to the dead. On the third day he rose again. He ascended into heaven, and is seated at the right hand of the Father. He will come again to judge the living and the dead. I believe in the Holy Spirit, the holy catholic Church, the communion of saints, the forgiveness of sins, the resurrection of the body, and the life everlasting. Amen.
The Prayers of the People
Almighty God, our heavenly Father, you have exalted your Son Christ Jesus to your right hand,
and made him the head over all things for his body the Church: hear us as we pray for the Church throughout the world …
Make us and all your people receptive to the gifts he pours upon us, that we may use them to your glory, and the building up of the body of Christ.
Lord, in your mercy: hear our prayer.
Lord God Almighty, the Ancient of Days, you have given your Son all authority in heaven and on earth: hear us as we pray for the world he came to redeem …
Grant that we may know even in this time the things that make for peace, and may strive for the reconciliation of all people in his kingdom of justice and love.
Lord, in your mercy: hear our prayer.
Father of all, whose Son has promised to be with us always, to the end of the age:
hear us as we pray for those among whom we live and work …
Grant that we may be so aware of his presence with us, that people may take note of us, that we have been with Jesus.
Lord, in your mercy: hear our prayer.
O God our Redeemer, whose Son ever lives to make intercession for us: hear us as we pray for those in any kind of need …
May he who has borne our infirmities strengthen and heal them, that they may find grace to help in time of need, and rejoice in his salvation.
Lord, in your mercy: hear our prayer.
Heavenly Father, whose Son has borne our humanity into the heavenly realms, and gone before us to prepare a place for us: hear us as we remember before you those whose earthly sojourn is over, and whose life is now hidden in him with you …
Make us joyful and expectant, that at his coming with all his own we too may go forth to meet him, and share in his eternal joy.
Merciful Father, accept these prayers for the sake of your Son, our Saviour Jesus Christ. Amen.
Hymn: Blue #247 Hail the Day That Sees Him Rise
A Prayer for Spiritual Communion
Leader: The Lord be with you.
All: And also with you.
Leader: Jesus said, "I am the bread of life. Whoever comes to me will never be hungry; whoever believes in me will never thirst…54 Those who eat my flesh and drink my blood have eternal life, and I will raise them up on the last day; 55 for my flesh is true food and my blood is true drink. 56 Those who eat my flesh and drink my blood abide in me, and I in them. 57 Just as the living Father sent me, and I live because of the Father, so whoever eats me will live because of me. (John 6)
All: Our Father, who art in heaven, hallowed be thy name, thy kingdom come, thy will be done, on earth as it is in heaven. Give us this day our daily bread. And forgive us our trespasses, as we forgive those who trespass against us. And lead us not into temptation, but deliver us from evil. For thine is the kingdom, the power, and the glory, for ever and ever. Amen.
All: Dear Jesus, I believe that you are truly present in the Holy Sacrament. I love you above all things, and I desire to possess you within my soul. And since I cannot now receive you sacramentally, I beseech you to come spiritually into my heart. I unite myself to you, together with all your faithful people gathered around every altar of your Church, and I embrace you with all the affections of my soul. Never permit me to be separated from you. Amen.
Concluding Prayer
Eternal God,
may we who share Christ's banquet
be one with him as he is one with you.
We ask this in the name of Jesus Christ,
the risen and ascended Lord.
Hymn: Blue #379 Rejoice, the Lord Is King
Leader: Go forth in the name of Christ. Alleluia!
All: Thanks be to God. Alleluia!
---
We pray for: The Rev. Trent Petit and Kira Moolman Petit
---
---


May 27-28: Doors Open Toronto
St Matthew's has been chosen again to participate in Doors Open, a festival of Toronto's great buildings. We open our doors and invite the city to come in and see our beautiful church. This year, the theme is Music. Our choir will be singing some of the great music of our Anglican tradition for Doors Open on Sunday afternoon. Stay for coffee hour and enjoy the music! We welcome volunteers to greet people both Saturday and Sunday. Please speak to Meaghan Candy and Anthony Granville if you can help.

Mother Catherine is celebrating the Ascension at St. David's Cathedral in Wales today. She and Sarah are following the ancient pilgrimage route from Chepstow to St. David's along the Pembrokeshire Coast. and will take your greetings to the people there. Many thanks to Fr Trent for taking the service here!
St. Matthew's Anglican Church, Riverdale,
135 First Avenue, Toronto ON, M4M 1W9
416-463-9720
The Rev Dr Catherine Sider-Hamilton – Priest-in-charge: 416-463-9720
The Rev Trent Pettit – Associate Priest
The Rev Dr Ephraim Radner – Honorary Assistant
Please direct all enquiries to William Middleton, People's Warden or Audrey Chan, Rector's Warden