Who We Are
St. Matthew's is a Christian church in the Anglican tradition. Our mission is to proclaim and embody the Gospel of Jesus Christ in our neighbourhood and to invite others to join in as we follow in the way of Jesus.
We are located at 135 First Ave in Toronto and our services are at 10:30 each Sunday morning.
Please contact us at 416-463-9720 if you would like to learn more, or talk to our priest in charge, Rev. Dr. Catherine Sider Hamilton.
Gospel
The gospel is the good news of the kingdom of God. In the first century Jesus of Nazareth went about preaching and teaching this good news, that the kingdom of God had come (Mark 1:15).
Our Neighbourhood
St. Matthew's has been a central part of the Riverdale neighbourhood since 1874. Today, Riverdale is a thriving neighbourhood just east of Toronto's downtown core that is filled with young families, working professionals, students, and new immigrants. We love the diversity represented here!
Anglican
The Anglican Communion is the third-largest tradition in Christianity with over 70 million worldwide members. While its origins trace back to the early undivided Church with its creeds and practices, Anglicanism developed a distinct identity through the 16th century English Reformation.
The Way of Jesus
The earliest Christians were known as "followers of the Way," (Acts 9:2; 24:14). At St. Matthew's, we like to think of ourselves as a community of people that are on the Way (Jesus also referred to himself as the Way! John 14:6).
We've been serving Riverdale since 1874. That's over 140 years!
St. Matthew's Anglican parish was established in 1874, when the first service was held on November 8 at 4 P.M. in the brick schoolhouse near the corner of Allen Avenue and Boulton Street. The first St. Matthew's Church was built on the corner of DeGrassi Street and Grover, now Cumming Street, in 1875.
Learn more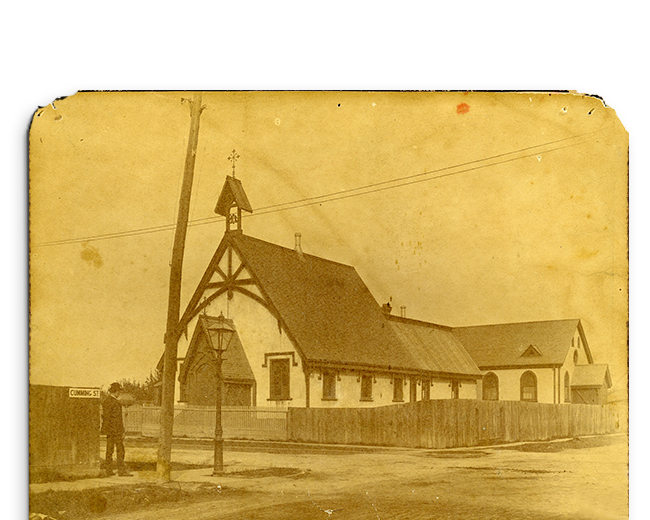 Checkout our Blogs!
St. Matthew's official blog that features transcripts of sermons and various theological writings from a few St. Matthew's brightest minds.
The wonderfully written blog of St. Matthew's brilliant priest in charge, Rev. Dr. Catherine Sider Hamilton. Catherine explores the rhythms of the Christian year with insightful and engaging prose that's well worth the read.
St. Matthews gave us a spiritual home complete with extended "family", worship with deep roots, and the message of Jesus to comfort and challenge us at the same time. We love the vitality of being part of a congregation that is as diverse as Toronto and united in purpose to represent Christ-likeness wherever we find ourselves beyond Sunday.

The MacDonalds, Parishioners
St Matthew's is my heart's ease & my refuge. A place to meet with God.

Lilla Wright, Parishioner
When we moved here from Scotland, St Matthews welcomed us so warmly it was hard to consider going anywhere else. We soon felt known and cared for. And we were almost immediately able to use our gifts to contribute to the church community.

The Drivers, Parishioners
St. Matthew's Refugee Initiative
This year the people of St. Matthew's decided that it is time. It is time to look beyond our walls, beyond our own lives and reach out to people far away living in despair and hopelessness. There are people thousands of miles away, unable to live in their own homes, forced to flee and to rely on the handouts of aid agencies.
Learn More
Follow us on Twitter
Follow St. Matthew's Riverdale and keep in touch with what's happening at St. Matthew's and in Riverdale!
Tweets by @StMatsRiverdale
Get in touch with us, we would love to hear from you.

Contact us