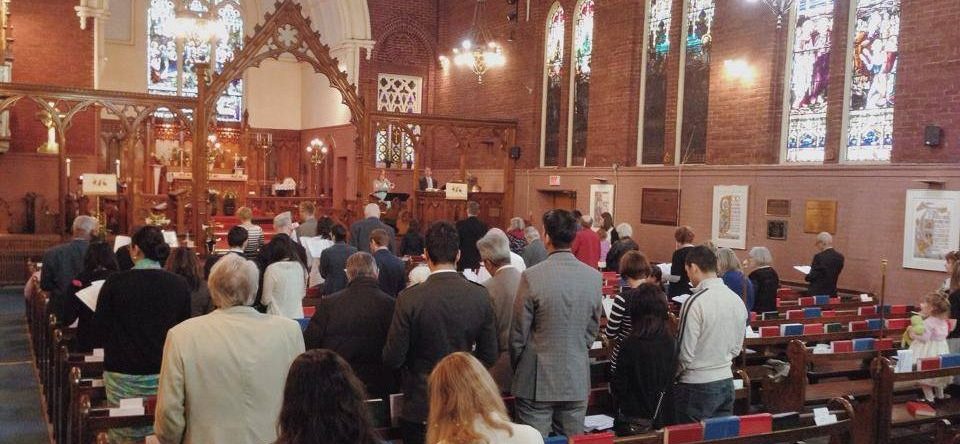 The Twelfth Sunday after Pentecost, Year A, 2017 – Exodus 1:8-2:10; Romans 12:1-8; Matthew 16:13-20
"Present your bodies as living sacrifices" (Rom. 12:1).
In 1989 Annette and I moved to New Haven, CT, where I returned to graduate school. For that first year, as Annette found and began work in a parish of her own, I took charge of a small inner-city church in New Haven. I had been doing inner-city ministry in Cleveland, and this fit with my recent experience. It was in a bad part of town, and was made up of a real mixed crowd of parishioners – a local fireman, a lady who sold hot-dogs by the docks, elderly women who had been born in the neighborhood 90 years before, and an assortment of odd ducks, scruffy characters, and street shufflers. Although I didn't know the language, I said part of the service from the Spanish Prayerbook. Half the time, I didn't know what was going on in church. But it was fun: we ran a little program for street kids, had a pantry, tried Bible Studies in multiple languages. One distinctive thing about Ascension, New Haven, was the music. It was awful. The woman who played the organ was deaf and apparently manually challenged, and you never knew what would come out when you started a hymn. She loved having her friends sing "solos", and her favorite performer was a wrung-out man of about 60 – or maybe it was 40 who looked 60 — who, I gathered, had thus far survived decades of drugs, emphysema, and cigarettes. He sounded like the Godfather choking on a chicken bone. He was, to put it bluntly, terrible. Hearing him sing "His eye is on the sparrow" still creates confusion in my brain synapses.
So one day the Sr. Warden, the fireman, comes to me and says, "Look, you've got to tell Bob not sing any more. It's too horrible." That was awkward. But after Sunday service one day, I took him aside. "You know, we really appreciate everything you do", I started out. "Your musical offering and all…". Before I could go on, he interrupted. "Oh, it's not music, Pastor. I know it's not music. The fact that I can sing at all, just open my mouth each day, that my body can just get up and come here and I can sing something out loud to God, after all I've been through… it's not music, it's my whole heart that I give Him." I really didn't have much else to say after that. Bob was dead a year later.
"Present your bodies as living sacrifices", St. Paul says today. Well, who does that? "Here's my body, Lord, it's yours."
We can think of servants, of transplant donors, literally, of soldiers, of firemen and policemen, of parents in a way, of martyrs. But what of you and me?
Bob, the "singer", was talking about taking, not simply his flesh, but taking everything about the flesh – his weakness, his struggle, his age, his failures, the limitations of his aptitudes, and doing something with it "for God". And, whether we're a mess or not, I suppose the Bob's of the world can show us the way a bit.
There are two things about bodies that the Christian tradition says: negatively, bodies are limited, they're mortal, they die. They are subject to the depredations of Bob's lifestyle, and of Bob's outcome, anyway, even if we don't share his lifestyle. Our bodies are "corruptible", Scripture says. We all know this fact, though we try to forget it as much as possible, and live on in some kind of bliss until old age or illness, and finally death, remind us of the fact of our bodies' corruptibility with a vengeance.
But we shouldn't forget our bodies, and ignore their basic fragility and mortality, their intrinsic limitations. Because, positively – and this is the second thing the Christian faith affirms — our bodies are gifts from God, they are one of the very things that makes us beings at all (Gen. 2:7), "dust [made] from dust" (3.19). But it's God's dust,brought out of nothing to become something, brought into being – why? — for love, to be loved by Him, now taken up in the hands of God's own molding and creating.
We believe in the resurrection of the body, in part because we know that God loves us eternally in the form that He made us.
This reality shows itself in the wonderful reading from Exodus this morning, which lays out the beginnings of the great divine work of redeeming Israel through the Law that follows. But notice how it all begins with bodies: the physically depleting labor of the Hebrews slaves; the killing of their children, mothers, midwives, and fragile infant body placed on a basket of reeds – Moses, which means "drawn from the waters", that is a tiny physical being pulled out of nothingness by God, through which salvation is divinely wrought. Exodus is about many things; but it is founded in the limited flesh of a baby and its parents.
What does it mean, then, to "present our bodies as a living sacrifice", bodies that are "things", breakable, destroyable, mortal, and given in love by God? It must mean, somehow, to take what is a gift, in its fundamental limitations, its "createdness", and to offer it up. Bodies are giftedness in its concrete form. They are, in themselves, offering.
In the Old Testament, "sacrifices" were primarily a way of praising God for the giftedness of life and life's provision. Right from the beginning, Cain and Abel take the "first fruits" of their harvest and the firstlings of their flock and they offer them to God (Genesis 4:3ff.). And these offerings of thanks became the basis for all the subsequent complicated systems of sacrifice in the Old Testament. The tithes (cf. Number 18:24), and even the sacrifices for sin — they all have their original meaning in this first act of thanks. "Offer to God a sacrifice of thanksgiving", the psalmist says (50:14), not the killing of animals for the sake of your guilt or your anxiety. Make an offering of thanks.
The offering up of something to God, in thanks, was a way of affirming the very power of God's gift in the first place. It's power, it's wonder, it's grace. It is the fact that God has given me something out of pure love, that makes that very thing something filled with the power of God's presence. In a sense, the tithe – the offering of 10 percent of a person's wealth of whatever kind (harvests, flocks, money, land) – was the great expression of thankful confidence in God's love and provision, an actual enactment of divine generosity: I can give to God, I want to give to God, because the whole of my being is God's gift – my breath, my children, my hands, my voice, my mind, my hours and years, my work, my home, my friends — and all is good and all is safe and all is wondrously filled with His life because it is a gift from Him. So any offering, my tithe, this or that sacrifice — it was a kind of song itself, rushing up from a heart made by God for God, spilled out in praise.
It is crucial to see sacrifice as such a song, devoid of guilt, of duty, of manipulation, of demand, and of fear. Only the freedom of thanks.
Many people today hate their bodies, in both a small and a big sense. Our culture has somehow knotted up our views here, and in complex ways that demand reflection, but not here: people think they're too fat or too thin, the wrong gender, the wrong hormones, the wrong relatedness to family or to men or to women, to young or to old. And in these deep and complicated dissatisfactions, they are driven away – hardly of their own fault! — from thanks to frustration, turned inward, the spigot of self-offering turned off.
Yet Paul writes, "Present your bodies as living sacrifices to God". He is calling us to praise God with the gift of ourselves, praise because of freedom and security, praise because we are His, no matter what and when and whom and how. No matter what. You could say that "sacrifice" has to do with the fearlessness of knowing, deep down, that we are God's.
It is very difficult for people whose sense of self is fragile, or defensive and insecure, to make self-offerings, isn't it?
They simply don't feel free enough to do so. They have no confidence in the power that He shares when we enter into His merciful life by making gifts ourselves. I knew an older woman in my parish in New York – highly talented and skilled in so many ways – whose repeated refrain to various requests for her help in this or that ministry at church – the soup kitchen, Sunday School, and so on – was always "I've worked too hard to get my life in order; I can't afford to mess it up now". I thought it was an odd answer until I learned more about her past, about her struggles personally, the abuse she had suffered, the escape, the building up of herself as an independent person over the years. Understandable in a deep way; but sad too. For she obviously still lived in fear, as it were, fear of it all falling apart again; and living in fear, she was unable to give a "sacrifice of thanks", in the sense of joining herself to the power of God's own self-giving to her, confident, joyful, and free.
I've learned this about myself, by the way: I am most ungenerous, when I am most fearful. That goes for my money, my time, my forgiveness, my love. And I am most controlling – with my money, my time, my forgiveness, and my love – when I am most alone, most distant from the recognition that God is the giver of my self, and thus that God is the closest power of grace that I could possibly have.
In a way, then, the very fragility of our bodies, the limitations they represent about ourselves, our bigness, smallness, weakness, lacks, the fact that we wear out and fall apart – it's all tied up with the freedom to give thanks.
We are limited, we toil, we get sick, we die – we are not what we might like to be — precisely because we are God's creatures, and not God himself.
"You will become like God" the serpent said to Adam and Eve (Gen. 3:5); but it was a cruel lie, for we are not God. We are objects of God's grace, we are persons whom He made, to love. Separate, limited, and thus loveable. You couldn't love if everything and everybody was the same, one big "sameness". Love is about specificity, and that is fundamentally about limitation, something our culture wants us to avoid accepting.
So Paul writes, in 1 Cor. 6:19-20: "Do you not know that your body is a temple of the Holy Spirit within you, which you have from God? You are not your own; you were bought with a price. So glorify God in your body". And his purpose in writing this is to say: because you are a body, because you are limited, because you are not God, but come from God and are for God, you can live in thanks and love, for you are His. You have nothing to fear and you are free to love in return. "Glorify God" in your limited body. What else are they for?
Why not sing like Bob? Every day we live and breathe, is the day to offer our bodies up to God in thanks. How? By using them in love, completely, wholly, openly, generously, unstintingly. When we do that, we enact who we are essentially: gifts given, gifts to be given. Paul says today, "we have gifts that differ", but it is all grace, all the same giving of God that we might live. And so we pray each day – this is what I'm suggesting, pray each day – "Lord, help me to take what I have, and use it in love for your sake!". Gifts that differ, Paul says, but the same Spirit. You and I are just like Bob. Take what you have. And offer it up, because it's who you are! A beautiful creature, a gift formed by God, and thus freely to be given up in thanks.
There isn't a person here who cannot say, "Lord, help me to take what I have, and today use it in love for your sake". What I have: my voice (call someone up); my hands (stroke someone's head, pick up a hammer), my money (yes, give it away in joy!), my knowledge, my hours, my love to pray for another person, my desire for good, my typing, my cooking, my counting, my painting, my pottery, my pain and compassion, my sense of justice, my encouraging, my jokes, my patience, my modesty… yes, even my singing.
You know, the greatest place of sacrifice – the greatest of all – is the church. And that is because it is the one place we are forced – I say "forced", because if you can't do it, you simply have to leave the church, as many do in fact leave it – it's where we are forced to put aside our demands, our standards, our principles, our grand visions about ourselves and world, and simply stand before one another, join with one another, as persons free to express in thanks the fact that we are God's.
The church is the place we simply cannot say, "it's not good enough for me".
Instead, it's the place where I can listen to Bob and say "Amen".
"Lord, help me to take what I have, and today use it in love for your sake". You will understand God, if you pray this way, each morning, and let God lead you. You will understand the mysteries of heaven. You will understand these words, which are the heart of the Gospel of Jesus Christ: "Take up your cross and follow me". You will finally understand them, not as some call to self-mutilation and masochism – the lie of the Devil of this age, who wants you to fear the Cross — but as a gift offered and a gift received. The God who "gave his son" (Romans 8:32) in love (1 John 4:10), who took mortal, corruptible flesh, who croaked out words like Bob's at the end of His life too (Luke 23:46), as an offering. You will understand God, who is the giver of gifts (James 1:5), the greatest of which is his own self in the body of Jesus. And in understanding this, you will be understood by God, who rejoices in the gifts you give in return.
Sermon was preached by Rev. Dr. Ephraim Radner at St. Matthew's Riverdale on the twelfth Sunday after Pentecost, August 27th, 2017.