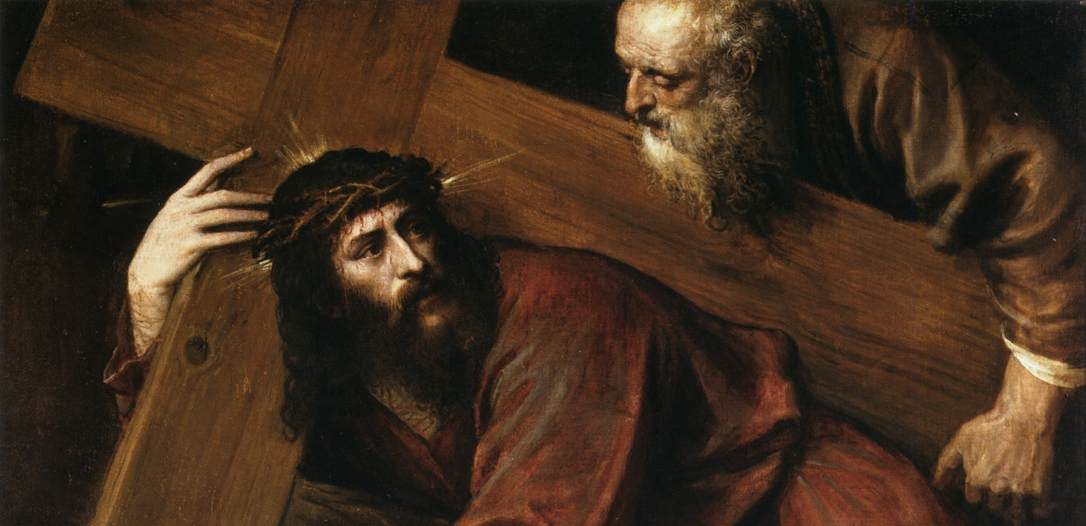 The Second Sunday in Lent, Year B, 2018 – Mark 8:31-38, Romans 4:13-25, Genesis 17:1-7, 14-16
If anyone wishes to follow after me,

ἀπαρνησάσθω ἑαυτὸν καὶ ἀράτω τὸν σταυρὸν αὐτοῦ

καὶ ἀκολουθείτω μοι.
These are Jesus' words in our Gospel today. I say them in Greek, so that they might startle you as they startled the disciples. I say them in Greek because we no longer hear them with the force they had for the disciples that day. And we need to hear them in their full force, because these words are right at the heart of our faith, and at the heart of what we are doing here in this church.
If anyone wants to be my disciple, you must deny yourself and take up your cross and follow me.
Put yourself in the disciples' shoes. Remember what has happened so far in Mark's gospel. Jesus has exploded into Galilee, stunning the crowds with the power of his teaching, silencing the forces of evil that seek to silence him, healing with a word, with a touch of his hand. The heavens have been torn open at his baptism. No wonder he has followers! Peter and James and John have seen him transfigured, suddenly blazing with glory, on the mountain.
And so when Jesus asks, "Who do you say that I am," Peter makes his great confession of faith. You are the Christ, the Messiah.
By this Peter means: You are the one Israel has been waiting for. You are the one who is going to deliver us, who is going to cast out the demons and trample the Romans into the dust; you are the one who will restore your holy temple and lift up God's people to worship God again in peace in his holy city. You are the Messiah, Peter says. You are the one who will rule Israel in glory, and all the nations of the world will come flocking to lay their treasures at your feet.
Ask of me, God says to his anointed one—his Christ—in Psalm 2,
And I will make the nations
your heritage,
and the ends of the earth your possession.
You shall break them with a rod of iron,
and dash them in pieces like a potter's vessel.
You are this Christ, Peter says, our long-awaited deliverer, the saviour of Israel come in power.
And then Jesus says this:
It is necessary for the Son of Man to suffer many things and to be rejected by the elders and chief priests and scribes, and to be killed, and after three days to rise again.
This is not part of the script.
To say that the cross is a disappointment doesn't begin to cover it. The cross is the up-ending of the disciples' world. And it is the upending of ours.
Like Peter, we understand success. We understand glory, that glory that we have seen in the face of Jesus on the mount of the transfiguration, that glory we have seen in the heavens torn open and the Holy Spirit like a dove descending upon Jesus, the power of God in his hands to heal and to restore. We know who God is, after all. He is the one seated on the throne, high and lifted up, and the hem of his robe fills the temple and the seraphim cry, "Holy, holy, holy, Lord God of Hosts."
Do you know who the hosts are? They are the armies of heaven. Michael and Raphael and Gabriel and all their heavenly hosts. God is the one who commands the Pleiades in their courses. God is the one who speaks to Abraham and says, "I will make you the father of many nations." God is the one before whom Abraham falls on his face.
We see the light of the knowledge of the glory of God in the face of Jesus Christ, and we think we know what this means.
What we know, though, is what we want glory to mean. It is we who want success and a throne. This is the whole problem.
Think back to Ash Wednesday, two weeks ago. Remember O man that you are dust. Remember the garden, the good garden God gave us; remember the fruit and the serpent and our desire. You will not die, but you will be as gods! This is the thought that catches our attention. That I might be a god. It's the throne that catches our attention. That I might be sovereign: I myself in my own wisdom; I myself by my own will; the great self-determining "I."
It is the flavour of the day.
Has there ever been a people more convinced that we know what is right—and that we have the power to achieve it?
We do not want the Word of God, if it means we have to listen to it. We do not want obedience. We want to be like gods, knowing good and evil, determining good and evil for ourselves.
And this is death to us.
Because it is God who is our garden. From God's word all our fresh springs flow. We are writing ashes on our foreheads all over again, and we are doing so with a smile.
It is necessary, Jesus says, for the Son of Man to suffer and die.
Why is it necessary? It is necessary because we are racing for glory with death on our heads. Jesus dies for us. Though we reject God in the garden, though we do not listen to his Word, though we prefer our own word, our own will, our own good and evil…though we construct for ourselves a world without God, God does not leave us here alone. He comes to us. Jesus is the son of man. He holds out his hand to us here, where we will not hold out our hand to him. He holds out his hand to us, even here, and suffers our rejection. The cross is the place where our decision for self-determination meets the enduring love of God.
This is the glory of God. It is known in the crown made of thorns, in the face where love and sorrow meet.
Who are we? We are the people who turn away, who choose the way that leads to despair. Who is Jesus Christ? He is the one who loves us and will not leave us there.
There are two things that Jesus says to us in his gospel today. We are not o.k. This world is not o.k. Our church is not o.k. On our own, we do not know the way. We need God. We need the beauty of his Word. We need just to sit, at first, at his feet and listen. On our own we do not know the way.
But we are not on our own. That is the second thing Jesus says to us today. Do what we will, he loves us, and he does not leave us alone. He is with us and his love shines from his thorn-crowned face.
On this Vestry Sunday, my prayer for us is two-fold.
That we may be a people who sit at Christ's feet, in every aspect of our lives; who do not turn away. That we may sit at his feet and listen to his Word and put our hand in his.
And that, as we learn to turn to him, we might share his great love with others. There is a whole world out there waiting to hear, alone and lonely in the sovereignty of its own desires. We have such a love, such a grace to share. May we raise in this place a light, Christ's light, the glory that streams from his cross. By our obedience, by our joy in his word may we learn to turn to the one we so badly need, to Jesus who loved us and gave himself for us that we might come to him.
AMEN
Sermon was preached by Rev. Dr. Catherine Sider Hamilton at St. Matthew's Riverdale on the second Sunday in Lent, February 25th, 2018.